CIO Roundtable: 2017 Mid-Year Review
Our team of tenured Portfolio Managers shares their insights on the direction of the stock market and interest rates, potential impact of Trump administration policies, hidden earnings power in the U.S. economy, and where they believe investment opportunities exist today.
Neil J. Hennessy

Chief Market Strategist and Portfolio Manager
MESSAGE FROM OUR CIO
Fellow Investor,
The bull market in equities is now in its ninth year. Some investors may be concerned that after such a long run, the market is "due" for a bear phase. We do not share their concerns. We believe the euphoria that has historically accompanied a peak in the market continues to be absent. Corporate profits are growing, and many corporate balance sheets are cash-rich, with relatively little debt.
As you'll see highlighted in the following comments, there are strong fundamentals in place that should continue to support a rising market, including steady economic growth, low unemployment, higher real wages and rising consumption.
With the equity bull market in its ninth year, where are stocks headed?
Steve Goddard: With the 10-year Treasury rate at approximately 2.5%, we believe stocks have room for multiple expansion. The price-to-earnings ratio (P/E) is currently higher than its historic average, but relative to interest rates, it is at a reasonable level. We believe there is no overriding reason the market can't continue to rise.
Dave Ellison: I believe healthy banks are the foundation for a healthy economy. Banks today appear to be in sound financial shape, based on lower levels of non-performing loans, increased capital and liquidity and healthy loan demand. I believe these conditions point to a rising market.
Ryan Kelley: Trends in the marketplace appear to be moving in the right direction. In the first quarter of 2017, earnings per share for the S&P 500 Index was up 9% compared to the same time in 2016. The U.S. economy shows evidence of strengthening, and I believe we could see a multiple expansion from here.
Brian Peery: Looking at U.S. equities, many valuation metrics are, on average, currently above historical norms. However, some sectors continue to appear cheap. Cyclical sectors, for instance, are trading below historical valuation levels. Companies are just emerging from a period of very slow revenue growth, and we believe they will continue to try to boost their top line through strategic acquisitions.
Peter Greig: We believe the market priced in a lot of optimism regarding Trump's economic policies. While the proposed policies could accelerate economic growth, getting those policies enacted may not be easy and could take longer than the market expects. Therefore, forecasted robust growth may not materialize in the short run.
Masa Takeda: We believe the Japanese market could continue to move higher. Since the end of 2012 when Abenomics was introduced, corporate earnings have doubled and the market has kept pace with earnings. Looking ahead, despite potential currency sensitivity, we believe Japanese stocks have reasonable upside potential.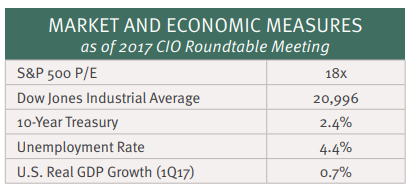 Would you please discuss your thoughts on what investors might expect from the Trump administration?
David Rainey: The U.S. presidential election appears to have lifted the 800-pound gorilla of expanding government regulation from the back of the economy. If the new administration is successful in boosting GDP growth, the impact on corporate earnings could be significant. Analysts estimate that for every percentage point increase in 2017 GDP growth rates over baseline forecasts, S&P 500 EPS growth can be four percentage points higher.
Ryan Kelley: If Trump's tax cut plan is successful and regulations are relaxed, we believe the biggest beneficiaries could be financial companies and banks.
Dave Ellison: Proposed tax cuts should benefit the economy, but the government needs to address the decline in the velocity of money, a trend since the financial crisis. Money appears to be trapped at the corporate level as companies have hoarded cash rather than spend on investment. It is important to note that tax cuts may lead to a bigger deficit.
Brian Peery: Despite high tax rates, many large companies with significant operations overseas pay little in tax after their deductions. While lower tax rates should benefit all corporations to some extent, they could especially benefit small- and mid-cap companies with predominantly domestic operations.
Masa Takeda: The Japanese economy should not be negatively impacted to any large extent by Trump's proposed policies. Japan's stock market and economic growth have largely been driven by domestic monetary easing. Similar to the U.S., Japan has experienced a decline in the velocity of money. There is plenty of liquidity in the Japanese economy, but consumers do not have enough confidence to spend money. While we believe that fiscal and monetary policy will remain loose in Japan, it is our opinion that structural reforms will be an important driver in stimulating economic growth.
Gary Cloud: I appreciate Trump's strong business-focused initiatives, but he may have overpromised and he may underdeliver regarding health care reform, tax cuts, and regulatory relaxation. Trump may want to focus on one initiative and get a signature piece of legislation passed rather than attempt to tackle multiple policies concurrently.
Skip Aylesworth: Given the setbacks in his first 100 days in office, Trump may face reelection risk. If he loses the presidency in 2020, it is possible many of this administration's executive orders will be reversed. It will be difficult for investors to make decisions during Trump's term if they expect health care and tax cut policies will change again in four years. Trump may have to learn to turn the battleship more slowly and propose modest shifts to be successful.
What is your assumption about interest rates over the next few years?
Peter Greig: The bull market in bonds may be over, but I don't believe we have entered the start of a bear market either. Over the past 65 years, world population growth has averaged 1.6%. The baby boomers generation created a significant increase in the demand for commodities and other resources which supported a high rate of global economic growth. This super cycle may be difficult to repeat as population growth slows around the world to be about half of that rate over the next 50 years.
Due to the expected subdued rate of global economic growth, we don't believe 10-year rates will reach 4% anytime soon, nor will rates likely fall below the low of summer 2016 either. However, with the Federal Reserve raising rates three times in 2017, and possibly three more times in 2018, we expect the yield curve in 18-24 months to look much flatter than it does today.
Gary Cloud: I believe short-term rates will rise very gradually. In my opinion, this Fed is the most dovish ever and will err on the side of keeping short-term rates low. Also, it will be difficult for the Fed to raise rates in isolation, and few other central banks in the developed world have been tightening. Furthermore, if you exclude housing costs from the calculation of the inflation rate, it appears that the U.S. economy is actually nearer to deflation than it is to an acceleration of inflation.
Dave Ellison: Many banks don't need rates to rise to survive. They have maintained profitability during an extended period of very low rates. In fact, a sudden and significant increase in rates could present a problem for banks' balance sheets. However, we don't believe this scenario is in store, and instead, the Fed will likely take its time in raising rates.
Brian Peery: I believe that the Fed won't raise rates abruptly but will hike at a more measured pace.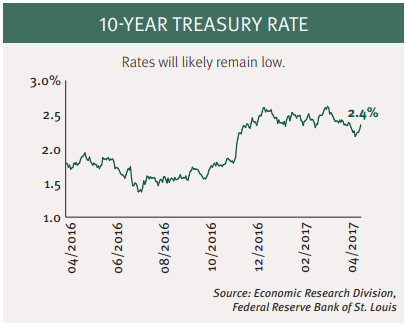 What are your thoughts on unemployment?
David Rainey: We believe the labor market is not as tight as it might appear. As of April 2017, the headline unemployment rate, the U3 rate, was 4.4%. The U6 rate, which includes people who are underemployed and people who would like to work but are no longer actively looking for employment, is at 8.6%. If the U.S. economy continues to grow and add jobs, some discouraged workers may return to the workforce and start earning money, paying taxes, lowering government welfare payments and contributing to GDP. This pool of potential employees could represent "hidden earnings power" in the economy.
Ira Rothberg: Due to automation and global competition, there appears to be little upward pressure on wages despite low unemployment rates. While these trends have been good for investors, they have resulted in below average real wage growth. The loss of jobs in the retail industry is a risk to the overall employment picture. As the largest private employer in the U.S., the retail industry may find itself overstored and overstaffed as e-commerce penetration rises.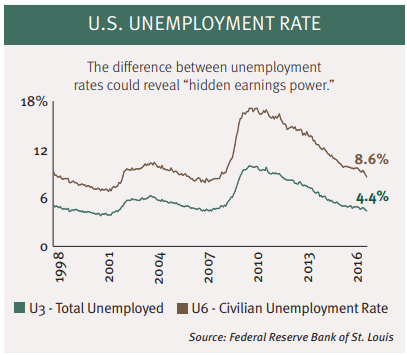 What opportunities do you see ahead in your area of the market?
Brian Macauley: While we actively invest in U.S. companies of all market capitalizations, we believe more opportunity exists today in mid- and large-cap stocks. Many mid and large companies meet our strict criteria, which include high-quality business, sustainable growth, excellent management, low "tail risk" and discount valuation.
Masa Takeda: Large-cap exporters have been a laggard due to geopolitical concerns and rising protectionist sentiments globally, but earnings are expected to show solid growth given the current currency exchange rates. We believe that as strong earnings numbers come through, shares of large-cap companies will be rerated in the remainder of 2017.
Dave Ellison: Given the anticipated rise in short-term interest rates, potentially lower compliance costs and higher loan growth, we may see the prices of financial stocks move much higher over the next few years.
Ryan Kelley: In the natural gas sector, a rising U.S. rig count may lead to an increase in the supply of natural gas and crude oil, and thus, downward pressure may be put on natural gas and oil prices. As a result, natural gas distribution companies should experience increased earnings, as lower natural gas prices lead to higher demand and drive higher volumes of natural gas.
Brian Peery: We believe mid-caps offer a good opportunity for investors today because they tend to be domestically focused, so a stronger dollar may not negatively affect their businesses. Mid-cap companies have been successful historically at weathering economic storms, should one occur.
Gary Cloud: Regardless of a potentially higher rate environment, our fixed income portfolio remains invested in investment grade debt with a small weighting in preferred stocks, business development companies, and high-yield bonds.
Steve Goddard: Dividend-paying stocks remain attractive as interest rates remain low relative to historical measures and debt on many companies' balance sheets remains lower compared to prior periods.