CIO Roundtable: 2018 Mid-Year Market Insights and Perspectives
At the 2018 Hennessy Funds' Annual CIO Roundtable, our Portfolio Managers considered the consequences of tax reform, the prospect of higher import tariffs, and the likely course of interest rates, among other topics. They ended their deliberations with a brief review of trends in the asset management industry. We are pleased to share a summary of our managers' views and perspectives.
Neil J. Hennessy

Chief Market Strategist and Portfolio Manager
MESSAGE FROM OUR CIO
The bull market has entered its tenth year, and in the first few months of 2018, we have witnessed the return of volatility. While some investors may be concerned about rising interest rates and the impact of import tariffs on trade, we remain optimistic. In particular, we note that corporate profits growth continues to be strong, and the euphoria that has historically accompanied a peak in the market continues to be absent.
As you'll see highlighted, there are fundamentals in place that should continue to support a rising market, including steady economic growth and low inflation. Tax reform has boosted company profitability and could lead to higher capital investment and payouts to shareholders over the next few years.
-Neil Hennessy
Would you please provide your thoughts on the U.S. economy?
Ira Rothberg: We believe the economy is doing well. The Trump administration seems to have reignited a sense of confidence and optimism among corporate executives. Consumer confidence has also increased, and corporate earnings are seeing significant upward revisions. One factor that may extend the economic expansion is a continued recovery in U.S. single-family housing construction.
Mark DeVaul: The economy has been growing at a moderate pace, with low unemployment and modestly higher wages. Looking ahead, we remain optimistic about the economy and believe that strong labor and housing markets should support consumer spending.
David Rainey: We are bullish on the economy as Tax Reform and deregulation are adding stimulus and offsetting the dampening effect of higher interest rates. While many stock market bulls were disappointed by the Q4 2017 GDP report, we believe the economy should continue to rebound in 2018.
Peter Greig: We remain optimistic on GDP growth as well as earnings growth. Tax Reform should boost economic growth but will probably not have a sufficiently powerful enough effect to raise GDP growth to the 3-4% rate targeted by the administration.
Daniel Hennessy: We believe with real wages rising and interest rates increasing only very gradually, solid rates of economic growth should persist.
With the Tax Reform lowering the corporate tax rate from 35% to 21%, where might companies deploy those savings?
Ira Rothberg: We expect about 60% of savings to be returned to shareholders, 15% to go toward higher wages and salaries, with the rest spent on operational and capital expenditures.
David Rainey: Although about 10- 15% could go to workers' salaries, the amount will likely vary by industry depending on the level of competition within individual labor markets. If companies believe the tax cuts are permanent, they will be more likely to invest the extra income. However, I concur that most of the benefit will likely go directly to shareholders.
Mark DeVaul: When the U.S. previously reduced the repatriation tax rate under President George W. Bush, over 90% of the benefit went to shareholders in the form of higher dividends and share buybacks. With the current tax package including a provision for accelerated write-offs for certain capital expenditures, perhaps more cash will go to capital spending with only about 60- 70% returned to shareholders. We are hopeful that more of the savings will go to employees than in the past.
Dave Ellison: Regardless of the tax windfall, some companies may continue to hoard cash rather than spend or invest.
Ryan Kelley: Partially as a result of the tax cut, earnings for the S&P 500 were up about 25% year-over-year in the first quarter, and companies should continue to exhibit strong year-over-year gains in profits throughout the year. Earnings growth will likely look less robust starting in Q4 2018. We are hopeful that the market will not be distracted by the deceleration of the headline number, but will instead focus on the underlying growth rate.
Ira Rothberg: I think the market will see through the year-over-year impact of changing tax rates when they are anniversaried.
Daniel Hennessy: Some of the biggest beneficiaries of lower taxes are small- and mid-sized companies, particularly those with a domestic focus.
Ryan Kelley: In the Financial sector, banks are planning to pass most of the benefit of lower taxes onto shareholders. By one estimate, large banks will pay out close to 110% of their earnings this year in the form of dividends and share buybacks.
Generally, the market appears to be rewarding the companies that return their tax savings to shareholders directly, while punishing others who announce higher spending on wages and investment. Regulators are pushing Utilities to pass the benefit of lower taxes onto their customers in the form of lower prices. This could help explain, in part, why the Utilities sector has underperformed this year.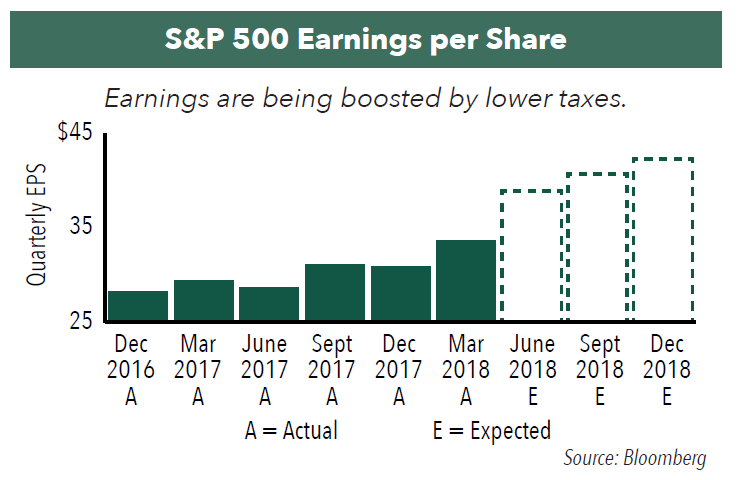 Where do you see interest rates heading?
Peter Greig: I see little reason for the inflation rate to accelerate much past 2%, and I am fairly confident that interest rates will not rise to levels where they hurt equity prices significantly. The equity market has already priced in two more rate hikes in 2018, three more in 2019, and two in 2020.
Gary Cloud: I believe the U.S. is closer to the end of the rate cycle, the point at which short-term interest rates peak, than the market currently expects. I believe global excess capacity in manufacturing and downward pricing pressure from technological innovation mean there is very little real risk of a significant acceleration in inflation. Disinflationary forces are still in place, the U.S. economy is unlikely to overheat, and many central banks around the world are keeping interest rates low. As a result, the Federal Reserve will probably not have to raise rates as much as forecast in 2019 and 2020.
I am hopeful the new Fed Chair, Jerome Powell, will pay attention to market signals, such as the yield curve flattening, and avoid tightening too much and inadvertently causing a recession.
Higher rates also have a fiscal impact as they push up the cost of servicing over $22 trillion in Federal Government debt, putting upward pressure on the budget deficit. Also, $9 trillion of corporate debt is tied to the rising LIBOR rate in the U.S. and Europe.
Dave Ellison: If rates rise sharply, banks could be forced to rein in their lending growth as a result of new rules which oblige them to "mark to market" or reduce the carrying value of their assets on their balance sheets to market values. However, gently rising interest rates are good for banking profits.
Daniel Hennessy: With interest rates still so low, if the U.S. economy were to fall into recession in 2019 or 2020, the Fed may lack additional levers to stimulate the economy.
Would you please discuss how Trump's trade policy changes may affect U.S. companies and the economy?
David Rainey: Nothing turns greed to fear more quickly than a trade war. Nevertheless, if the Chinese have not played fair with trade, the administration is justified in using the 1974 Trade Act to bring them to account.
Ira Rothberg: We believe the announcement and discussions about import tariffs represent classic Trump deal-making. He appears to make outrageous demands and eventually backs down to a reasonable negotiated position. A risk this time is the U.S. could drive away trading partners. However, we believe negotiated agreements are likely to surface soon.
Mark DeVaul: We don't think the issue of tariffs will have a material impact on U.S. GDP or the market. The whole issue may just be posturing by the Trump administration.
Dave Ellison: At least the U.S. and its trading partners are now conversing. Tariff threats are a negotiating tactic. Trump followed the same pattern with tax reform and North Korea.
Masa Takeda: The silver lining of a trade war between the U.S. and China could be higher prices, leaving Japanese exporters in a better position competitively. Notably, none of the companies in the Hennessy Japan Fund are affected directly by the tariffs already imposed on steel and aluminum.
Would you please share your insights on the markets in which you invest?
Ira Rothberg: We are constructive on the U.S. market since it is trading on a reasonable price-to-earnings (PE) multiple of 16.8x forward cash earnings as of April 2018.
Mark DeVaul: While we are positive on the economy, we believe relatively high valuations, rising inflation, and higher rates may dampen returns going forward, with volatility continuing.
Ryan Kelley: Small- and mid-cap companies in the U.S. are reporting strong profits growth as a result of buoyant economic conditions and the effects of Tax Reform. Going forward, we feel that investors will continue to invest in smaller growth stocks but may be more sensitive to the valuations they are willing to pay.
Masa Takeda: Over the last five years the Japanese market has gone up 120%, but earnings per share have also increased 120%. There has been no PE multiple expansion over this period, and the market still trades on 14x trailing earnings as of April 2018. However, the outlook for Japanese equities is much improved. Easy monetary and fiscal policy have been followed by a number of structural reforms, which have helped Japanese companies grow faster and become more profitable. Return on equity is now over 10%, the highest in 30 years. Also, equity as a percentage of total assets has risen from 20 to 40%, illustrating how balance sheets have strengthened.
What opportunities do you see for active asset managers?
Ira Rothberg: Asset allocators are getting smart about "closet indexers" and their potential to act as a drag on performance. As a result, barbell strategies, the combination of high active share, concentrated portfolios with passive funds, are becoming more popular. Passive funds are likely to reach at least 60-70% of invested assets.
Mark DeVaul: The last few years have been great for passive investments. We believe active managers will have the opportunity to show their value by outperforming the broader market in a downturn.
Peter Greig: Fixed income funds have been largely immune to the shift towards passive funds due to the construction of bond market indices.
Ryan Kelley: Passive investing has delivered good returns for so long that investors have been lulled into a sense of complacency. It may take a downturn in the markets to shine a light on the importance of risk management.
Dave Ellison: Many complicated passive products, such as leveraged ETFs, are less than nine years old and have never been tested in a bear market. They could pose unforeseen risks in times of market stress.
David Rainey: In the next significant downturn, the disadvantages of passive funds could become clearer. It could be a heyday for active managers.
Masa Takeda: Japan is a good market for active managers since the market remains under-researched and inefficient. Over the last 10-15 years, 50% of active managers investing in Japanese equities have outperformed their respective benchmarks after fees.