Finding Value in the Equity and Fixed Income Markets
In the following commentary, the Portfolio Managers of the Hennessy Equity and Income Fund discuss the outlook for earnings growth, the disparity between value and growth stock performance, and their viewpoint on interest rates and the fixed income market.
Mark E. DeVaul, CFA, CPA

Portfolio Manager

Gary B. Cloud, CFA

Portfolio Manager

Peter G. Greig, CFA

Portfolio Manager
Mark Devaul - Equity Allocation: Can you comment on the strong reported earnings growth in 2018 and your outlook for growth in 2019?
Earnings growth has indeed been strong this year. Earnings per share (EPS) for the S&P 500 Index on a year-over-year basis rose about 25% in the second quarter of 2018 and is expected to be up 20% in the second half of the year. We estimate that about three to four percentage points of this growth came from lower taxes. We expect earnings growth to be slower next year, but still healthy at between 7% and 9%, driven primarily by continued steady economic growth.
What are your thoughts on current stock valuations?
From a valuation perspective, price-to-earnings ratios appear somewhat elevated in our opinion. The market is trading at 17x forward earnings, or about a 15-20% premium to its long-term average. However, the market's earnings yield of 6% looks attractive relative to the 10-year bond yield of 3.0%, and so by this relative valuation measure, the market looks more reasonably valued.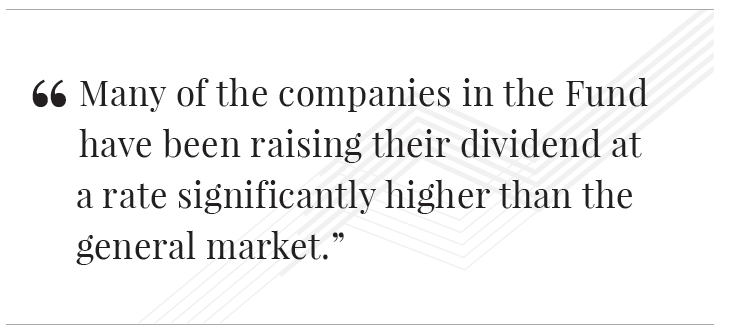 Would you please comment on the continued disparity in returns between growth and value stocks?
Value stocks, especially large caps, have been lagging growth stocks since 2007. Over the past 18 months, the outperformance of growth over value has become more pronounced. We believe above-average rates of economic growth (between 3-4%) and low-interest rates have been fueling this recent disparity in performance. It is possible that once economic growth settles back to more sustainable rates and the Fed raises rates to more neutral levels, value stocks may start to recover lost ground.
We focus on companies that have above average appreciation potential yet also exhibit the ability to mitigate downside risk, and therefore, the Fund's holdings tend to have a "value tilt." To the extent that value outperforms growth, the Fund is likely to benefit. In the meantime, many of the companies in the Fund are raising their dividend at a rate significantly higher than the general market.
Would you please discuss the investment process used to select equity investments for the Fund.
With our focus on minimizing downside risk, we primarily seek companies with strong balance sheets that also display high returns on capital, sustainable cash flow, pricing power, and robust competitive moats established as a result of scale, patents, or branding. We attempt to purchase these high return-on-capital businesses when they are trading at a discount to our estimate of their intrinsic value. As long-term investors, we aim to hold a position for four to five years. The Fund's equity portfolio is fairly concentrated, with approximately 30 stocks.
Could you discuss any new holdings you have added recently?
We added three new positions to the portfolio this year through September 30, 2018:

1.Albemarle Corporation (ALB). Albemarle's largest business is the production of lithium for batteries, demand for which is growing at 18% per year, powered by growth in demand for electric vehicles. Investor concerns over conditions of oversupply in the lithium market, especially in China, allowed us to purchase our position in Albemarle at an attractive price.

2.Martin Marietta Materials (MLM). The company has an oligopoly position in the aggregates industry – the mining of crushed stone, gravel etc. for the construction of roads and foundations. It is benefiting from increased spending on infrastructure.

3.The Home Depot (HD). The Home Depot has strong returns on capital and mid-teens operating margins owing to its leadership position in the retail home improvement industry. The company has an excellent history of capital allocation, distributing much of its $10 billion in annual cash flow back to shareholders in the form of dividends and stock buybacks.
Gary Cloud and Peter Greig - Fixed Income Allocation: Would you please comment on your outlook for short-term rates?
We do not believe the Federal Reserve will have to raise short-term interest rates as much as some commentators currently fear, and as a result, will be able to stop well short of triggering an economic downturn. We believe the Fed will raise short-term rates two or three more times over the next 12 months, taking the Fed Funds Rate to about 2.75%. We believe that financial markets are expecting these increases and have already priced them in.
While official forecasts indicate that Fed members expect up to six rate increases over the next couple of years, which would take the Fed Funds rate to 3.5%, we believe the Fed will not need to raise rates much above 2.75% for the following reasons:
»» Disinflationary forces are strong and ubiquitous. Excess capacity in manufacturing, price transparency from e-commerce, and
productivity increases as automation starts to revolutionize the service sector, are all exerting relentless downward pressure on prices globally.
»» Wage growth is still moderate. After eight years of economic expansion, average hourly wages are growing at less than 3%, instead of the 4% average seen at this point in prior economic cycles.
»» The rest of the world is not tightening monetary policy. Short-term interest rates in Europe and Japan are still negative. As custodian of the world's reserve currency, the Fed cannot ignore what is happening abroad, and, in our opinion, will be reluctant to let interest rate differentials widen too much.
»» Macro developments in the U.S. and abroad could limit rate increases. Uncertainty over Brexit and turmoil in Turkey and Argentina, and ongoing disputes over trade could act as restraints on further rate hikes.
»» We expect both inflation and economic growth to moderate over the next few years. We believe higher inflation figures recently
reported are the result of the normal cyclical upswing to be expected during an economic expansion.
What are your thoughts on the potential for the yield curve to invert?
We do not believe the yield curve has a high probability of inverting. In an attempt to assess the risk of the yield curve inversion, investors have been focusing on the difference between 2- and 10-year bond yields, which stands at about 25 basis points.
We believe a better measure is the difference in yield between the 90-day bill and the 10-year bond, which today stands at about 80 basis points.
Additionally, we believe the Fed is mindful of the risks connected with yield curve inversion and will act with caution.
Where are you finding value in the bond market today?
We believe that bonds, in general, represent fair value today, and corporate bonds look the most attractive. Spreads between corporate bonds and government bonds are wider than they were a few quarters ago, and in some cases, 10-year investment grade corporate bonds are yielding over 4%. The Fund's fixed income segment is currently weighted heavily towards corporate bonds, with twice the weight of the benchmark, the Bloomberg Barclays Capital Intermediate U.S. Government/Credit Index.