Japan Compares Favorably Among Countries Commonly Held In Foreign Funds
When looking at foreign countries that most commonly comprise foreign funds, Japan has performed well while continuing to offer compelling valuations.
Masakazu Takeda, CFA, CMA

Portfolio Manager
Outperformance Compared to Other Foreign Countries
Among the countries most commonly held in foreign funds, Japan has outperformed over the 10-year period.
Attractive Valuations
Japan's valuations remain compelling on a price/earnings multiple based on 2021 forward earnings.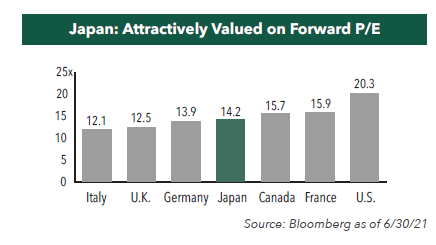 However, we anticipate earnings could be unpredictable due to the pandemic environment, and therefore, price/book (P/B) metrics may more instructive. At 1.3x, Japan's P/B is lower than that of many foreign countries.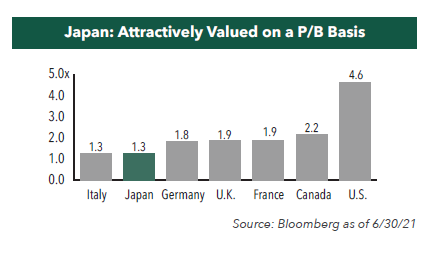 An Opportunity to Benefit
We believe Japan is home to some of the most globally competitive companies that have large moats, strong management teams, and good transparency. However, to access the best opportunities in Japan, we believe active managers with a deep understanding of the Japanese market and unique corporate culture are key. The Hennessy Japan Fund is sub-advised by Tokyo-based SPARX Asset Management Co., Ltd. With its decades-long relationship with Japanese corporate management and familiarity with the nuances of Japan, its "feet on the street" team provides a significant advantage for investors, as shown by the Hennessy Japan Fund's outperformance over the TOPIX benchmark.