Japan's Economic Revival
We believe Japan is on the path to economic revival. To reverse a long period of stagnant economic growth and deflation, Prime Minister Abe and his government initiated an ambitious economic revitalization plan centered on monetary and fiscal stimulus and structural reform, which has resulted in measurable progress.
Masakazu Takeda, CFA, CMA

Portfolio Manager

Tadahiro Fujimura, CFA, CMA

Portfolio Manager
The Success of Abenomics to Date
Highlights of the positive effects of the economic revitalization plan include:
Yen Depreciation. Many public companies in Japan are export-oriented. Therefore, a weaker yen has had a positive effect on the value of Japan's largest companies' export earnings.
Lower Corporate Tax Rate. The Abe administration lowered the corporate tax rate in Japan from 40.7% in 2011 to 30.9% in 2016, which helped boost profits and attract foreign investment in Japan.
Rising Return on Equity (ROE), Dividends and Buybacks. With new rules and incentives, some companies adopting more shareholder-friendly practices, ROE, dividends and buybacks have risen.
Economic Growth. Japan has achieved the longest period of sustained economic growth in a decade with year-on-year GDP growth averaging 1.2% over the last 15 quarters.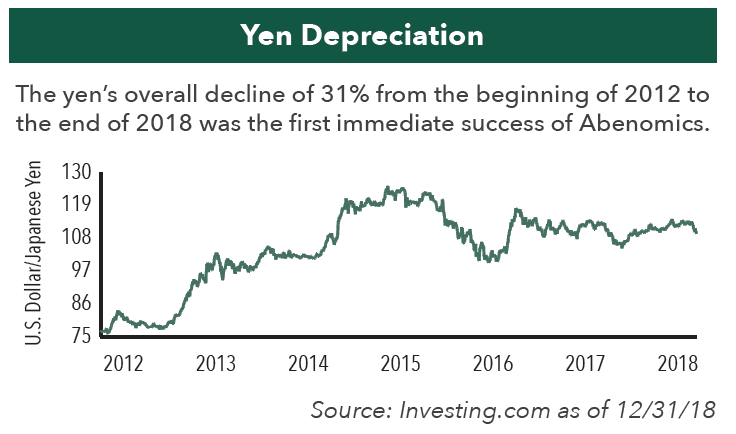 Structural Reform Initiatives Underway
Determined to return Japan to sustainable economic growth and to tackle the country's structural issues, Prime Minister Abe set a goal to boost nominal GDP to 600 trillion yen ($5 trillion) by 2020, by focusing on three key areas:
1. Deregulate the Labor Market. In June 2018, a series of labor market reforms were passed with the goal of improving productivity in Japan. The government has also made it a priority to encourage women and retired workers to return to the workplace. Legislation aimed at allowing the entry of low-skilled foreign workers into Japan is also being considered.
2. Boost Tourism.The government has been actively promoting tourism to help increase the number of foreign visitors. Government officials are hoping to attract 40 million tourists spending a total of over $60 billion by 2020, the year that Tokyo will host the Summer Olympics.
3. Reform Corporate Governance.In 2014, the Japan Stewardship Code was implemented with the goal of improving shareholder returns. A revised corporate governance code was published in June 2018 calling for clear management succession plans and further reduction of cross-shareholdings.