The Rise of Natural Gas Exports
Over the last decade, strong growth in production has allowed the U.S. to become a net exporter of natural gas. Both pipeline exports to Mexico and liquefied natural gas (LNG) exports to the rest of the world, especially Asia, have been growing rapidly, and significant further growth is forecast.
Ryan C. Kelley, CFA

Portfolio Manager
Key Takeaways
The U.S. is set to become a significant net exporter of natural gas, #3 in the world behind Australia and Qatar

Total natural gas exports increased 13% year-over-year in the first ten months of 2018 with LNG leading the way, up 56%

LNG exports could grow to approximately 11% of U.S. natural gas production by 2021
Over the last 18 years, natural gas exports from the U.S. have been booming, increasing over 14-fold from 2000 to 2018.* This growth has helped bring the U.S., which imported 20% of its natural gas needs back in 2007, into a position where it became a net exporter of natural gas in 2017. The boost to exports and reduction in dependence on imports is due to rapid growth in U.S. natural gas production since 2005, driven by the discovery and exploitation of significant shale natural gas resources. Today, about 70% of natural gas exports are via pipeline and 30% is shipped in the form of LNG. We believe there are good prospects for growth in both channels.
LNG Exports
In 2016, the first LNG export terminal in the U.S. was opened in Louisiana. The EIA called the terminal "a milestone…that has put the United States in a new position in worldwide energy trade." There are four LNG export terminals operating today. Ten more have been approved, four of which are under construction, and 18 more are pending government approval. The EIA projects that U.S. LNG export capacity will reach 8.9 billion cubic ft. per day (Bcf/d) before the end of 2019, making the U.S. the third largest exporter in the world behind Australia and Qatar. By 2021, the U.S. should be able to export over 10 Bcf/d of natural gas or approximately 11% of current U.S. production.
Meanwhile, world demand for LNG is growing rapidly. Global natural gas consumption is expected to grow steadily over the next 20 years, driven primarily by growth in Asia and the Middle East. A significant portion of this growth in demand will be supplied by imports of LNG. China is the number two buyer of LNG after Japan and is expected to overtake Japan in 2019. With the expansion of the Panama Canal to accommodate larger LNG tankers, making it easier and more cost-competitive for the U.S. to export to Asia, we believe the U.S. is well positioned to become a significant supplier of LNG to Asian markets. Europe also wants to buy more LNG to reduce its dependence on Russian pipeline imports.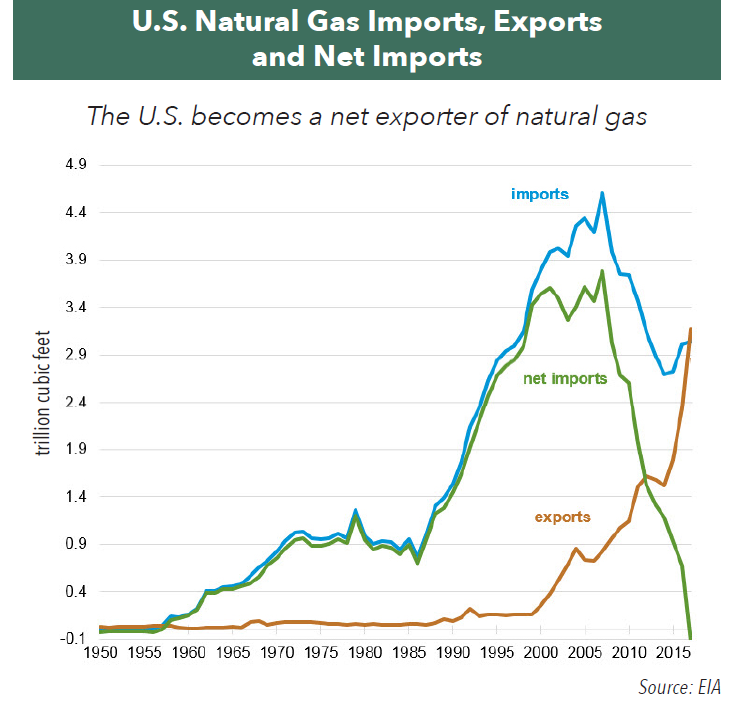 Pipeline Exports to Mexico
Exports of natural gas via pipeline have also been growing. Exports to Mexico have grown 16-fold since 2000 and now account for over 2/3 of total pipeline exports. With a near doubling of U.S. export pipeline capacity to Mexico by 2019, the EIA expects U.S. natural gas exports to continue to increase. Mexico's national energy ministry expects to increase its natural gas use for electric power generation by almost 50% between 2016 and 2020. Mexico's domestic natural gas pipeline network is also undergoing a major expansion, primarily to accommodate new natural gas imports from the United States.
Natural Gas Reserves
The natural gas export industry in the U.S. has significant, long-term growth potential. The U.S. has the fourth largest reserve of natural gas in the world today. The EIA has estimated that the U.S. has about 823 trillion cubic ft. of proven and technically recoverable shale gas reserves and industry assessments estimate that the U.S. has 3,141 trillion cubic ft. of gas reserves overall – or the equivalent of over 100 years of production at current rates.
*First 10 months of 2018 annualized, for comparison purposes