Buffett Strengthens Focus on Japan
Berkshire Hathaway has increased its investment in five Japanese trading companies, Mitsubishi Corp., Mitsui & Co., Sumitomo Corp., Itochu Corp., and Marubeni, with investors taking notice. With Buffett strengthening his focus on Japan, we believe investors should as well.
Masakazu Takeda, CFA, CMA

Portfolio Manager
Key Takeaways
» Collectively known as "sogo shosha," these companies are diversified conglomerates with interests in food, consumer products, renewable energy, metals for use in electric vehicles (EVs), and healthcare.
» Buffett's picks trade on low price to earnings (P/E) and price to book (P/B) ratios, mirroring the low valuations found throughout the Japanese equity market.
» Japanese executives, in a marked change from past practice, are recognizing the importance of capital efficiency and have been raising dividends and increasing stock buy-backs consistently in recent years.
Buffett Increases Japanese Investments
In 2020, Berkshire Hathaway's purchase of 5% stakes in five Japanese trading companies caused a flurry of optimism around the Japanese equity market. Most recently, Warren Buffett announced that Berkshire has increased its investment in these stocks and now owns 7.4% each of Mitsubishi Corp, Mitsui & Co., Itochu Corp, Marubeni Corp, and Sumitomo Corp. Investors are once again taking notice—one of the most successful investors of all time is finding value in the Japanese equity market. After more than three decades of relative underperformance, could it be Japan's time to shine?
Attractive Fundamentals
Berkshire Hathaway's Japanese investments are in five "trading" companies, known locally as "sogo shosha." These companies have a long histories dating back to the end of World War II when they began as importers of energy and metals. Today, these companies are well-diversified "conglomerates" with interests in food, consumer products, metals, machinery, chemicals, and energy. Their overall profitability is excellent with a return on equity (ROE) of between 18 - 25% compared with an ROE of just 8% for the market as a whole.
Best of all, these companies have been growing rapidly over the last few years with earnings per share (EPS) increasing at 20.1% p.a. since 2017. This growth has generated significant excess cash flow. Recognizing shareholder priorities, management teams at these storied companies have been returning a growing portion of this excess cash flow in the form of dividends and share repurchases. Dividend growth has averaged a generous 12.9% over the last five years, and the stocks now offer very attractive yields in the 3-5% range. The companies are also buying back more stock. Mitsui and Mitsubishi are currently planning their largest-ever buybacks.
Compelling Valuations
Notwithstanding these attractive fundamentals, Buffett's picks are currently trading at very modest valuations. Undoubtedly, investors the world over have trouble valuing conglomerates. Often structured as sprawling behemoths, conglomerates are typically viewed as difficult to manage with parts moving in all directions that don't fit neatly into one sector. Given this, they tend to always trade at a discount. In Japan, for these five trading companies at least, this discount is significant.
In terms of P/E multiple, Buffett's sogo shosha are trading on 6-8x earnings versus 15x for the broad-based Tokyo Stock Price Index (TOPIX), or a discount of 40-60% to the market. On average, the five stocks trade on 1.1x in terms of P/B.
Certainly then, Buffett looks to have found some very interesting investments in Japan. And he has hinted that he is looking at other stocks. What about the rest of the Japanese market? Can we see inexpensive valuations and attractive fundamentals there too?
Broader Market Looks Attractive
Japanese equities more generally do seem to share some of the favorable characteristics of Buffett's favorite sogo shosha. Valuations for Japanese equities look attractive. On a P/E basis, the broad market, as represented by the TOPIX, trades at just 15.3x compared to 18x for the S&P 500® Index. On a P/B basis, the entire market looks very cheap with the TOPIX trading at 1.25x vs 4.09x for the S&P 500®. In addition, Japanese stocks today yield 2.4%, 44% more than stocks in the U.S.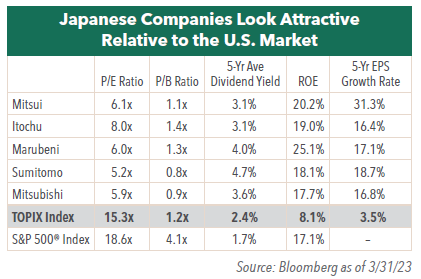 Shareholders in many Japanese companies are also being rewarded with stock buyback and dividend growth programs as improvements to companies' capital efficiency and corporate governance spread throughout the corporate sector. Since 2009, dividend growth for the TOPIX has averaged a robust 9% per annum (p.a.). Meanwhile, share buybacks have been growing significantly and are set to reach a record level this year, topping $67.7 billion.
EPS growth is still sluggish for the market overall: TOPIX EPS growth has averaged just 3.5% p.a. over the last five years. But this overall number hides a wide range. Some companies are growing spectacularly fast, such as Buffett's trading companies. Others are struggling. In such circumstances, it pays to have local, active managers selecting investments. Tokyo-based SPARX Asset Management Co., Ltd., portfolio manager for The Hennessy Japan Fund and The Hennessy Japan Small Cap Fund, has decades-long familiarity with the inner workings of corporate Japan. Portfolio Manager Masakazu Takeda is a fan of the sogo shosha and has owned Mitsubishi, the largest, for many years.
We believe Japanese equities today offer many attractions to investors, including inexpensive valuations and attractive fundamentals. In addition, Buffett's latest move confirms that the Japanese market deserves a closer look. And we believe that SPARX, with a "feet-on-the-street" approach, is well placed to identify the most compelling opportunities.